A Phone Charging Holder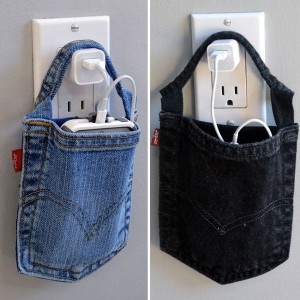 With a charging holder like this, forget about finding surfaces to put your phone on while it gets charged. Just connect it to the charger and slip it in this holder.
Rugs Made with Woven Jeans Fabric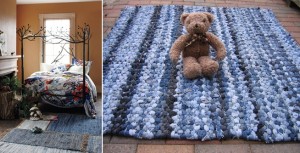 If any space on your floor is in need of a rug then simply take out a few pairs of old jeans that you no more use and weave them into a rug.
A Beach Pillowcase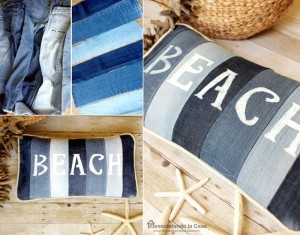 A pillowcase made with jeans would look just so cute and stylish. You will definitely get compliments on it. You can either make a whole pillowcase from one single jeans or mix different shades of denim to achieve an effect as if the shades of water on a beach are gathered on a single pillow.
Stylish Bags and Wallets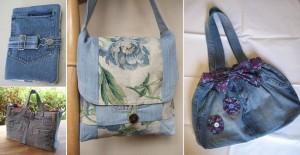 Make yourself a chic wallet or a bag and show off your style.
Armrests for a Couch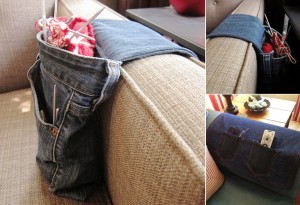 The first armrest you can see is from 'denim do over' that is a blog dedicated to denim creations run by Susan. You will surely love her more creations too including this armrest.
Jeans Pocket Hanging Organizers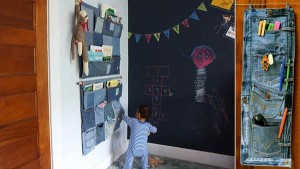 If clutter in your home is an ever increasing phenomena then corral it in these pocket organizers. They are great to hang in a kids room or on the wall of your entryway as these two are those spaces in every home where lots of clutter can be seen.
Unique Upcycled Jeans Placemats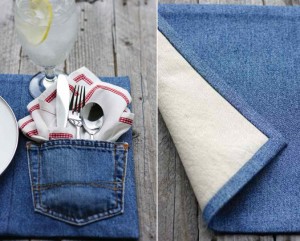 Bring charm to your dining table by whipping up a few placemats with denim.
A Recycled Denim Hammock Chair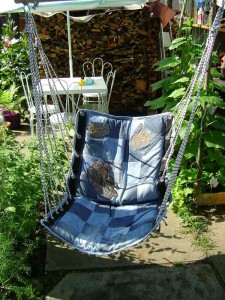 This creation of a hammock chair made from denim is surely a must have in your garden or patio.
Patchwork Denim Quilts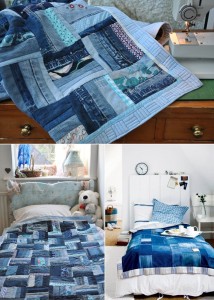 Give your bedroom a makeover this winter in the form of a patchwork denim quilt.
An Ottoman with Storage Pockets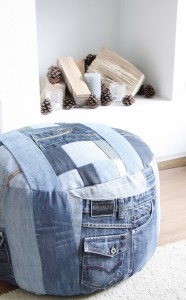 If your living room is in the need of some extra seats as well as storage then go for this ottoman that combines these two is the stylish ever way possible.