A Cute Apron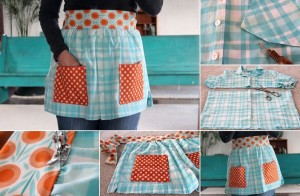 Beth Huntington an eHow contributor has shared a wonderful way to upcycle an old shirt. She took an old powder blue checkered shirt and combined it with an orange and powder blue fabric belt and vibrant orange pockets and thus created a beautiful apron. Isn't this wonderful?
Shirt Pillow Covers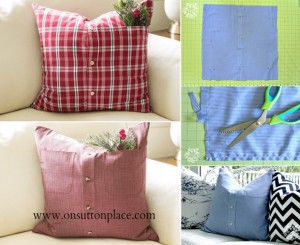 Ann Drake at On Sutton Place came up with a great idea and she recycled some old and unused shirts into stylish pillow covers. The cool thing about these covers is that she kept the originality of the shirts and left the buttons in their place that look adorable in the middle of the covers.
A Cool Tank Top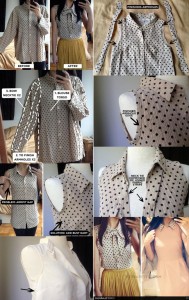 Image via: Fashion Diva Design
A Tote Bag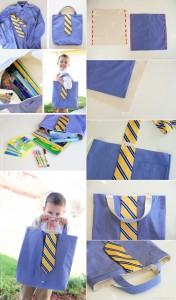 Ashley at Make It Love It created a tote bag from her husband's old shirt. The cutest thing she did to the bag was the addition of the yellow tie that compliments the blue color of the shirt tote so amazingly well.
A Coin Purse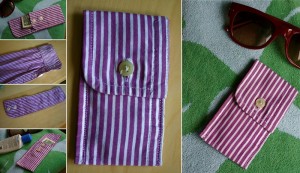 Camilla of Family Chic by Camilla Fabbri Blog came up with such a clever idea. She recycled the cuff of an old men's wear shirt into a coin purse. That is so superb, isn't it?
A Shirt Quilt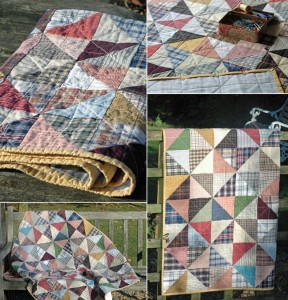 Debbie at Serendipity Patch has intricately crafted this amazing patchwork quilt. So, if you also happen to have an assortment of old button-up shirts at your home, simply collect them and make a quilt like this. Even if you don't have lots of shirts you can start collecting them from thrift stores.
A Purse and Clutch Set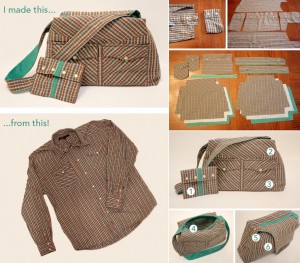 One Month To Win It Blog created a wonderful set of a purse and a clutch made from a large sized men's shirt. Absolutely wonderful!
Swingy Kids Skirts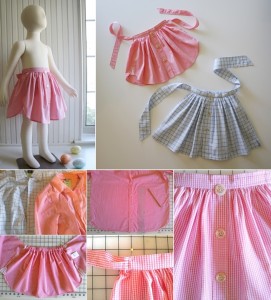 Molly at Little Goodall recycled some old shirts into these cute spring swingy skirts. They are great to pair with tops of your little girl during the heat of summer season.
Baby Bibs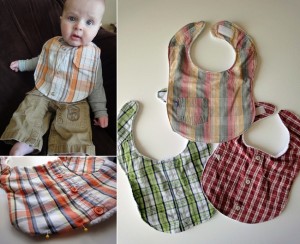 Michelle Barneck at A Little Tipsy rethinked old baby button up shirts and created these super cute bibs for her baby boy.
Shirt Strip Ornaments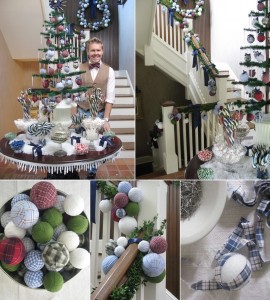 Image via: Eddie Ross