A Pumpkin Chair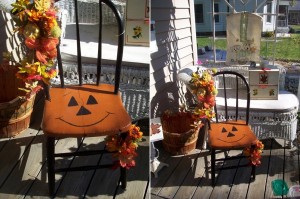 Ann at A Sentimental Life found a second hand chair and an idea came to her mind. She painted that chair like a pumpkin and put it in her porch as a fabulous fall decor so that whoever enters her home can enjoy the view of this cute and cool pumpkin chair.
A Cool Bench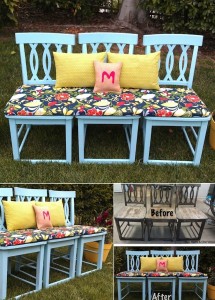 Jen at Four Marrs One Venus had three old and ugly chairs that she recycled into one amazingly chic bench. She painted the chairs blue and accented it with cushions of floral fabric.
A Chippy Chair Table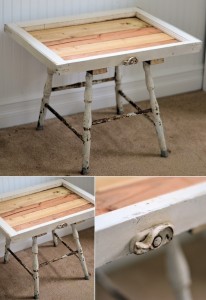 Image via: Shabby Love Blog
A Scarf Holder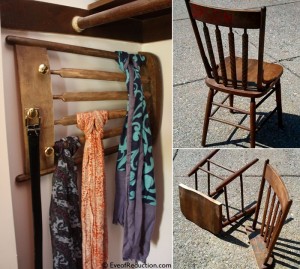 Eve via Eve of Reduction cut the back of an old chair that had a design with bars. So she added knobs to it and hung that back part of the chair on a wall and turned it into a unique scarf organizer.
Dog Bowl Chairs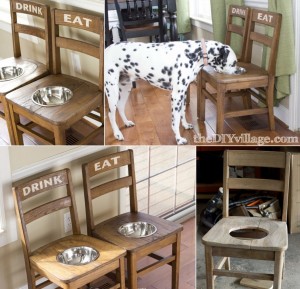 Jacque at The DIY Village got 4 old school chairs and she gave a makeover to two of them and transformed them into dog bowl holders. She also stenciled the chairs with the words 'drink' and 'eat'.
An Organization Caddy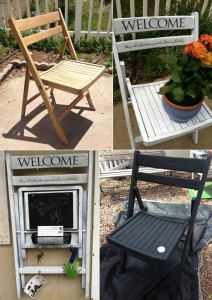 Adreanna Cosper at Life in Our Nomad re-thinked a chair into an organization caddy that has a chalkboard for writing memos and lists, a basket for holding stuff, hooks and clips for cards and photos. This is completely ingenious, isn't it?
A Pet Bed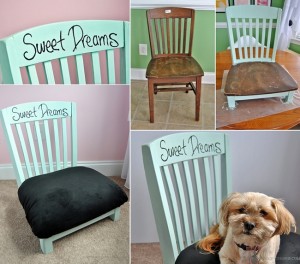 Christie Selken at Sparkles of Sunshine painted an old chair, added a cushion to it and tada! It was ready to be used by her pets as a cozy bed.
Old Chair Planters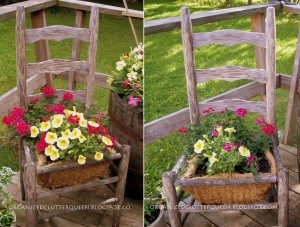 Organized Clutter has got a wonderful way to upcycle all the old chairs that you have. Instead of tossing them away turn them into planters for your garden and patio. Imagine what a lovely focal point a planter chair would create.
Old Chair Swings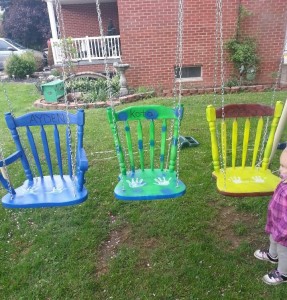 Ellen Whitehead at Pinterest shared a fun way to recycle old chairs. Simply cut the legs of the chairs, attach chains and turn them to swings.
A Chair Back Towel Rack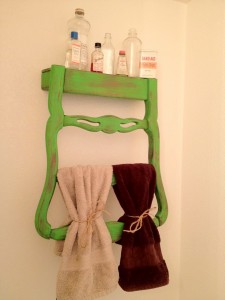 I'm Gonna DIY has got a wonderful idea. You can make a wonderful towel rack and storage shelf for your bathroom from an old chair's back.