Garden Birdhouse Stands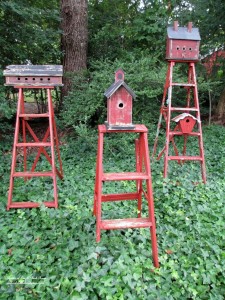 Our Fairfield Home & Garden has shared an idea where you can recycle old ladders as stands for birdhouses. This will have two benefits, firstly you will be able to place the birdhouses in a proper place and secondly the birdhouses combined with ladders are also a form of a garden feature.
A Pot Rack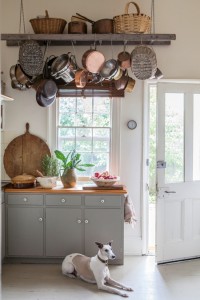 Homelife has a wonderful idea to use a ladder as a kitchen storage option for all the pots and pans that occupy space inside your kitchen cabinets and on the counter or kitchen island. Simply hang an old ladder with suspending chains, add hooks and hang all your pots and pans in one place ready to be accessed easily and at any time.
A Jeans Hanger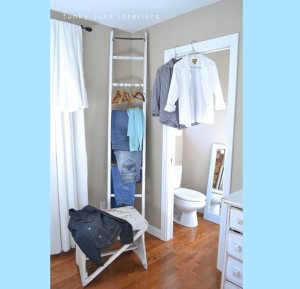 Donna at Funky Junk Interiors has rethinked an old ladder into a hanger that stores and displays the collection of her jeans. This idea is great for all of those who have run out of space in their closet and need some extra storage solution for the poor homeless clothes.
A Bathroom Towel Rack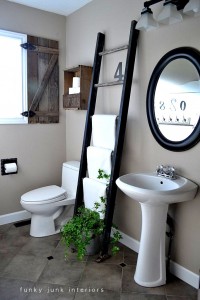 Image via: Funky Junk Interiors
A Decoupage Ladder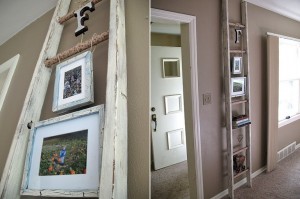 Amanda Formaro at Crafts by Amanda came up with an interesting and unique idea. She decorated a ladder superbly with decoupage technique and then added picture frames and other accessories to it and created a beauteous decor for her wall.
A Planter Stand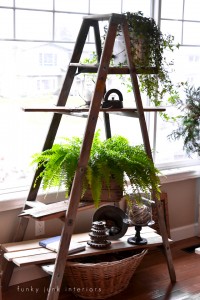 Donna at Funky Junk Interiors turned an old ladder into a planter stand that earlier served as a Christmas decor ladder.
A Ladder Chandelier

Beth from Unskinny Boppy got inspired from a ladder chandelier with hanging lanterns at Pottery Barn and then she decided to create her own that turned out be absolutely marvelous. She hung the ladder in her porch with chains and added mason jar luminary and a star to it. This ladder chandelier has given a whole new life to her porch.
A Ladder Bed Canopy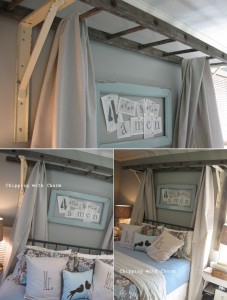 Image via: Laurel @ ChippingwithCharm
Cool Scarf Organizers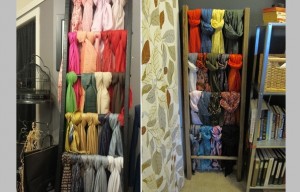 Image via: Standing Ovations Consignment Boutique , Decozilla
A Christmas Ladder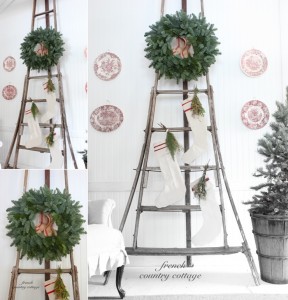 Courtney at French Country Cottage decorated a vintage ladder with a fresh leaf wreath, sprigs and beauteous stockings.