Christmas Topiaries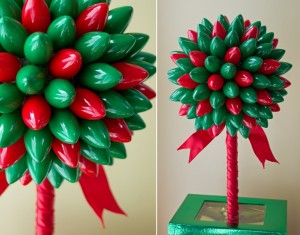 Kristin at Hatter and Hare Events made these wonderful Christmas topiaries from light bulbs. Here she used new bulbs but this is definitely a worth trying idea for old bulbs. You can simply paint them in green and red.
Hot Air Balloons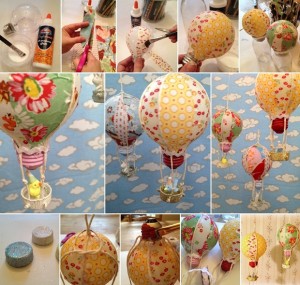 Jenn via Rook No. 17 has shared a wonderful use of old light bulbs. With the help of fabric, glue, string and glitter she has given a second life to old light bulbs in the form of hot air balloons. How cute is that!
Pretty Flower Vases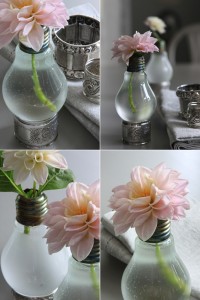 Imag via: Sjarmerende Gjenbruk
Awesome Outdoor Luminaries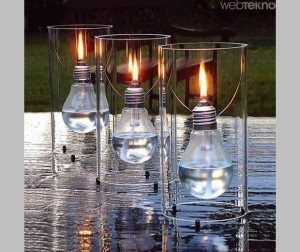 Image via: Galeri Webtekno
A Snowman Ornament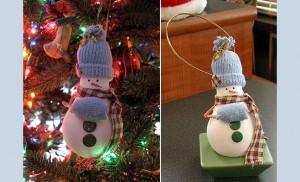 Amanda Formaro at Crafts by Amanda created this cute snowman ornament after rethinking a simple old light bulb.
An Air Plant Terrarium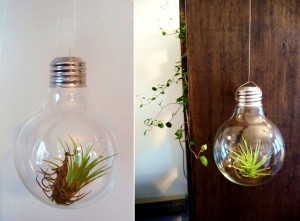 Etsy Shop Page and Scott has this inspirational idea where you can fill an air plant in an old light bulb to make a terrarium.
A Hand Painted Light Bulb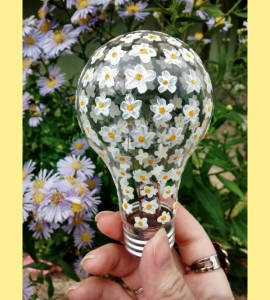 Image via: Rebloggy
A Concrete Bulb and Reclaimed Timber Coat Rack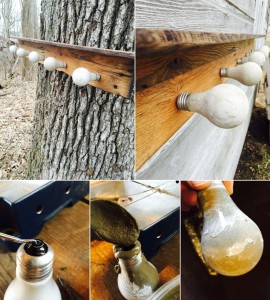 ClenseYourPallet at Instructables has shared an ingenious and super creative coat rack idea where light bulbs were filled with concrete mixture. Once dried the glass was broken and removed. After that the bulbs were attached to a slab of reclaimed wood and this coat rack came into existence.
Cool Lighting Fixtures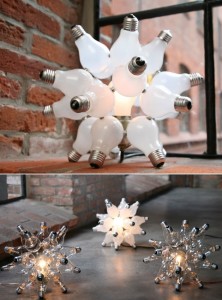 Image via: Bulbs Unlimited
Glitter Coated Light Bulb Christmas Tree Ornaments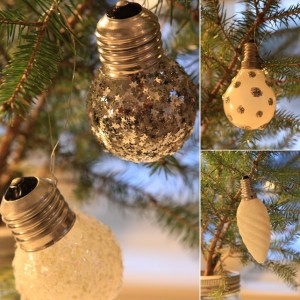 Image via: sjarmerendejul
A Recycled Bulb with a Ship Inside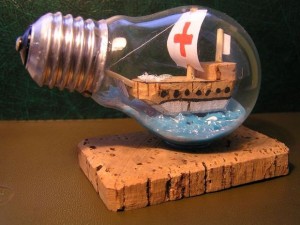 Image via: Instructables
Glitter Bulb Magnets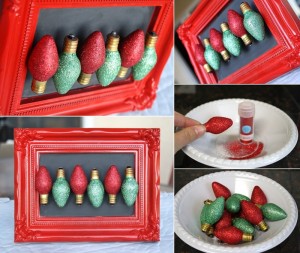 Courtney at A Diamond in the Stuff made this wonderful Christmas decor by glittering and attaching magnetic light bulbs in red and green glitter to a red magnetic frame.
Twine Wrapped Old Light Bulb Pears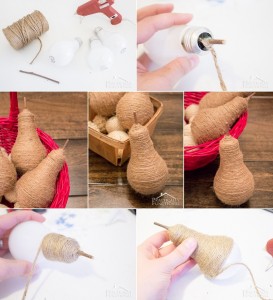 Jessi at Practically Functional after replacing old light bulbs got a creative idea. She wrapped all the old light bulbs in twine that look exactly like pears. You can also try making these pears and they are guaranteed to go well with the theme of the coming season that is none other than fall. All you need for this is bulbs, twine, a stick and a glue gun and you are set to whip up some twine pears.