Bobby Pin Holder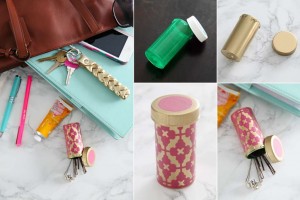 Do you always get difficulty to find the countless bobby pins you have that seem to vanish at the time of need? If yes then see how amazingly Jen at iheart Organizing has created a wonderful bobby pin container from an old pill bottle by spraying it with gold paint and then wrapped a vinyl cutout around it.
Fun Rainbow Crayons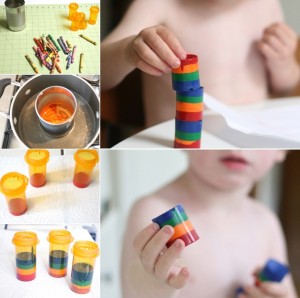 Liz Stanley at Momtastic has a fabulous idea for your kids. If you have a couple of old pill bottles, fill them with layers of melted crayons. Take them out when set and see how wonderful rainbow crayons will be formed.
Ear Phones Holder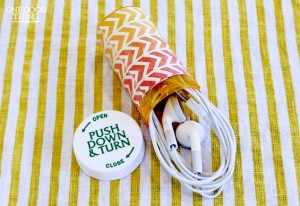 If you are fond of listening to music whenever and wherever you want then this idea of old pill bottle ear phone holder by One Good Thing by Jillee is going to be a life saver for you.
Pill Bottle Lighting Fixtures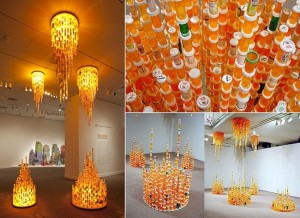 Image via: Eco Friend
A Pin Cushion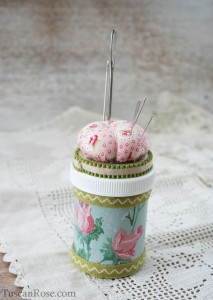 Tuscan Rose blog has a wonderful creation from a pill bottle where a totally adorable and practical pin cushion is made with an old pill bottle.
Piping Tip Containers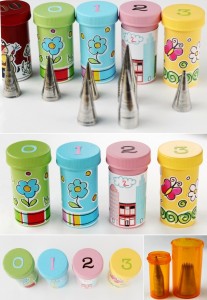 Lisa from The Bearfoot Baker creates and shares sweet treats and all things yummy on her blog. Since piping tips are the baking tools she uses frequently, she came up with a wonderful idea to store them in painted and decorated old pill bottles. Two thumbs up Lisa!
Makeup Brush Holders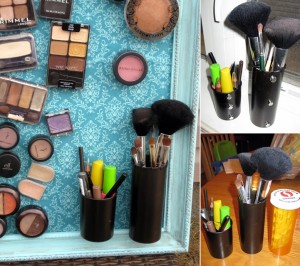 Laura at Laura Thoughts 81 created a magnetic board for all of her makeup supplies and for storing her makeup brushes she used empty pill bottles. This is truly a dream creation for any girl who loves collecting makeup.
Faux Bamboo Vases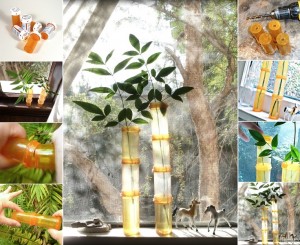 Michelle at Michl in LA has created such an ingenious project that truly steals the show in our today's roundup. She has joined empty pill bottles to make a vase in such a manner that they mimic a bamboo.
A Pill Bottle Light Garland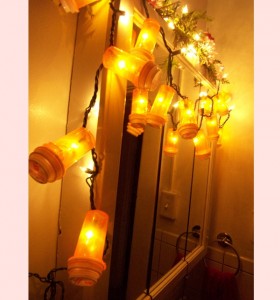 Image via: Rob Thurman via Flickr
A Waterproof Cash Holder for Beach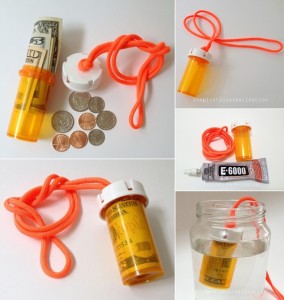 If you hit the beach frequently then you must have soaked your cash many times. So, this wonderful idea by Inspiration Realisation is worth giving a shot to.