A Cute Doll House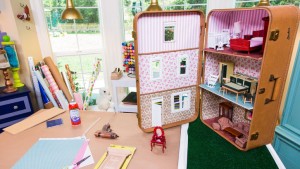 Ken Wingard at Hallmark Channel created a super cute dollhouse from a vintage suitcase.
A Drink Bar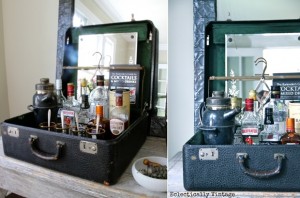 Kelly @ Eclectically Vintage rethinked a vintage suitcase and added some cocktails and a cocktail recipe book to it and made it into a drink bar.
A Lovely Nightstand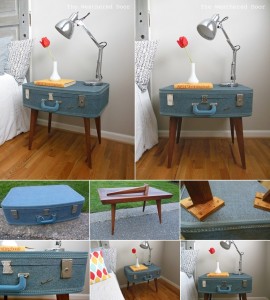 Reeves @ The Weathered Door loves to revamp furniture and here is a wonderful creation by her where she has combined table legs and a garage sale suitcase into a beauteous nightstand.
A Coffee Table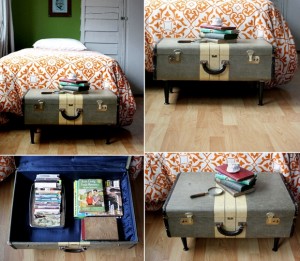 Design Sponge shared a project by Ashley Poskin where she re-imagined a 10 bucks vintage suitcase into a coffee table offering a space for storage too.
A Dog Bed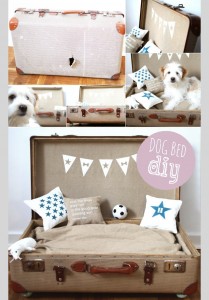 Titatoni Blog shares a cute dog bed made from a vintage suitcase.
A Craft Supplies Storage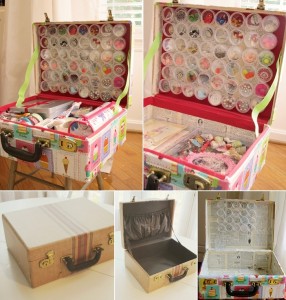 Amy at inspire co gave a lovely makeover to a suitcase for storing her beads and other knick -knacks.
A Cool Clock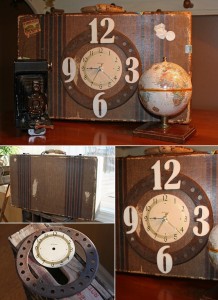 Jane at Mamie Jane's Blog gave a second life to a suitcase after turning it into a clock. Now that's amazing!
A Garden Planter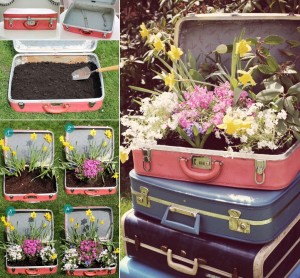 Tracey via Tracey Tilley made a wonderful planter from a beautiful coral colored suitcase.
A Charging Station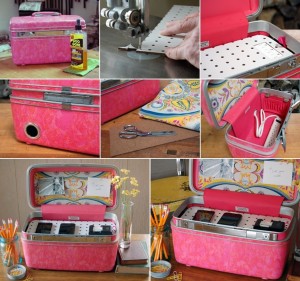 Sara and Stacy of SugarSCOUT via Design Sponge have shared an amazing reuse of an old suitcase in the form of a cool charging station.
A Wonderful Bookshelf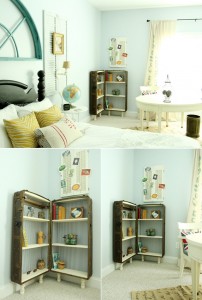 Julie at Less-Than-Perfect Life of Bliss made a wonderful addition to her guest room in the form of a bookcase she created from an old suitcase found by her husband.
A Kids' Play Suitcase Idea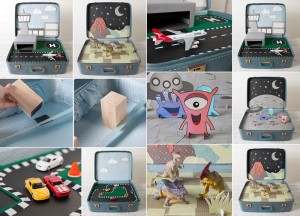 Tara Dennis a television personality shows how beautifully a suitcase can be turned into a kids' play suitcase. Kids are surely going to have endless fun with a creation so joyful.
A Suitcase Chair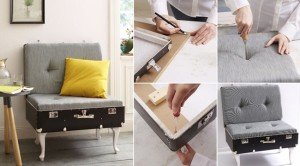 Home Story has got an incredible tutorial where a suitcase is transformed into a comfy chair with some tweaks and additions. So, if you are in plans of purchasing a few extra seats for your living room, simply recycle one or more vintage suitcases.
A Wall Vanity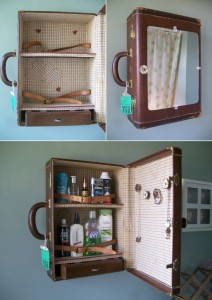 Salvage Shack's Etsy Shop has a great idea where a vintage suitcase is reclaimed as a wall vanity.