Pumpkins to Celebrate Fall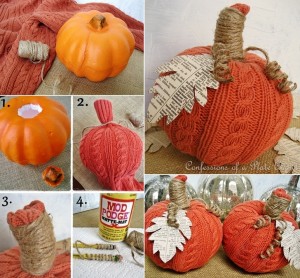 Debbie at Confessions of a Plate Addict shows a great way to recycle a sweater by wrapping it around a faux pumpkin. Didn't you just get an idea for your ugly orange sweater you hate to wear?
An Ear Warmer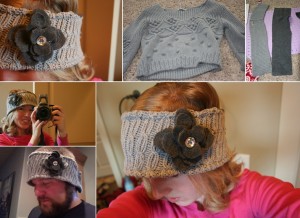 Michelle at Polka Dots and Pizza made a cute ear warmer from an old sweater and took lovely pictures of herself and her husband too. How sweet is that!
A Lampshade Cover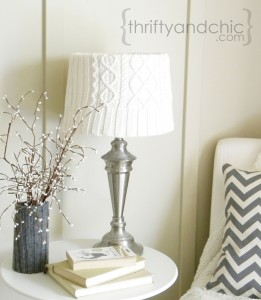 Alicia via Thrifty and Chic gave a whimsical makeover to a lampshade by simply covering it with a sweater.
A Chic Purse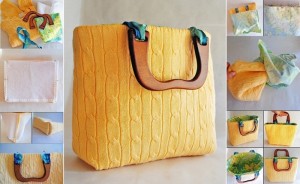 Nicole a Guest Poster at Lemon Squeezy Home shared a lovely tutorial where she has crafted a lovely purse from a lemony yellow sweater.
Chic Sweater Bangles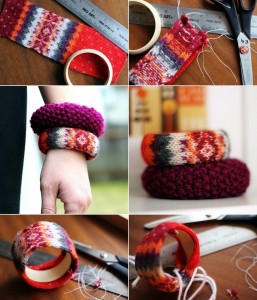 Rebekah at Rebekah Gough made these trendy bangles from thrift store sweaters. Now you can wear cozy jewelry too during cold weather.
Cozy Fingerless Mittens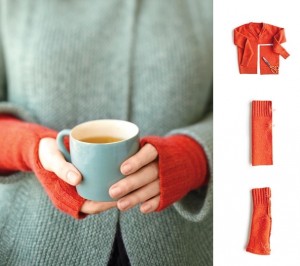 Whole Living has an easy-peasy tutorial to make fingerless mittens in no time from an old sweater's sleeves.
A Dog Bed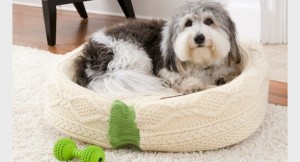 Woman's Day has got something special to make for your furry friend. If you are in need of a dog bed, simply rethink a sweater.
Christmas Decor Ornaments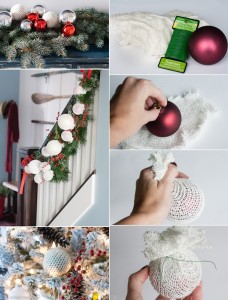 Kelly at The Lilypad Cottage has got a smashing Christmas ornaments idea where she has utilized old sweater and old ornaments to create completely new and amazing ornaments.
Ruffle Rose Pillows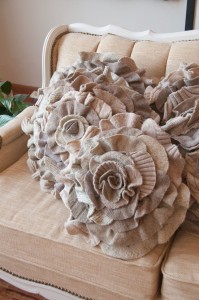 These ruffle rose pillows from Etsy Shop Old Made New Org will surely want you to cut your new sweaters too if you don't have old ones. Well, take it easy just run for old ones. 🙂
Cute Cupcake Pincushions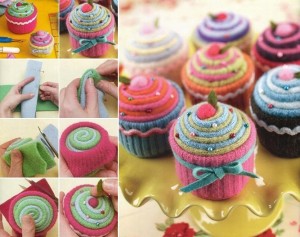 Alessandra Azevedo at Nina Meninas has shared an adorable and innovative idea where she has explained how to make these cute cupcake pincushions from old sweaters.
Tabletop Christmas Trees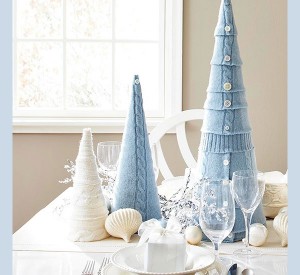 Better Homes and Gardens has a cool idea for your Christmas table top in the form of these icy blue and white cone shaped Christmas trees that once used to be sweaters.
A Throw Blanket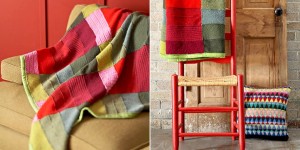 Here is another wonderful sweater recycle idea by Better Homes and Gardens in the form of a fun and colorful throw blanket.
A Sweater Rug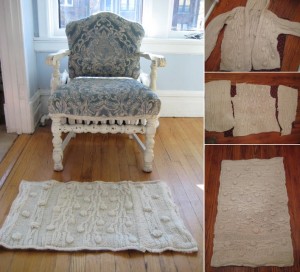 Here is yet another amazing sweater re-imagined as a rug by Diana Durkes at Home Workshop.
A Cozy Pair of Slipper Boots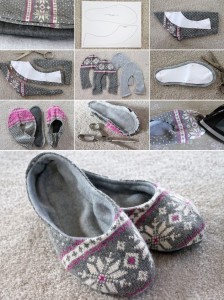 Beth Huntington an eHow Contributor has given a second life to an old sweater as cozy slipper boots.
Marvelous Candle Holders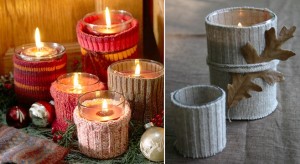 These candle holders by Better Homes and Gardens and Camilla Fabbri Designs are a must-try fall project.
Sweater Sleeve Socks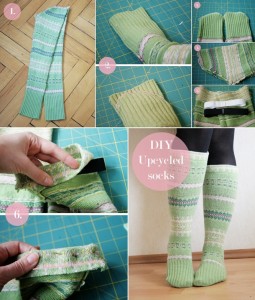 Hanna at Pearls and Scissors rethinked her old sweater's sleeves as these cute and cozy socks.