A Flower Power Dress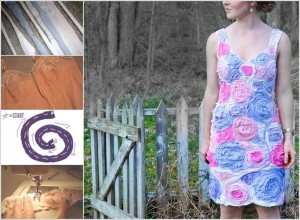 Stacie at Stars for Streetlights turned her old t-shirts and a slip into a dress that can give anyone a fashion envy. It seems to be out of a fairy tale.
A 2-in-1 Bracelet and Necklace

Stephanie from Hello Natural was cleaning her closet from things that she no longer wore and found some striped t-shirts and turned them into a braided bracelet that can be worn as a necklace too.
A Braided Headband

Catherine from Rabbit Food for My Bunny Teeth crafted this amazing braided headband using an old t-shirt.
A Hula Hoop T-Shirt Rug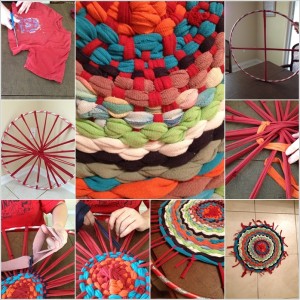 Mrs. Colon's Classroom Corner has shared a wonderful tutorial where you can craft a rug from recycled t-shirts using a hula hoop as a frame.
Cute T-Shirt Shaped Pillows for Kids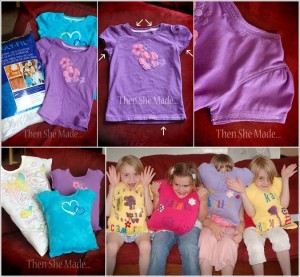 Amy at Then She Made made these absolutely cute t-shirt pillows for her kids to use them while they go on road trips.
Adorable Pom Poms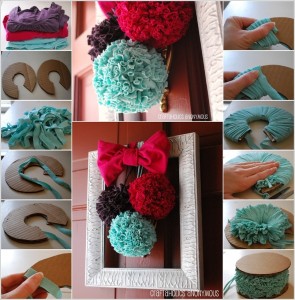 Linda at Craftaholics Anonymous crafted these amazing pom poms that now make such a lovely decor in her home.
An 8 Second Skirt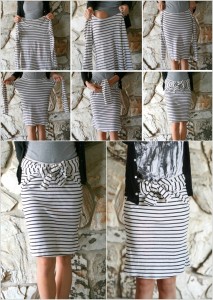 Sarah at Our Life is Beautiful created a super stylish bow skirt not in a matter of minutes but in a surprisingly less duration of only 8 seconds. Wow!
A Ruffled Scarf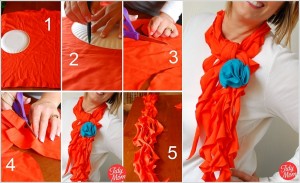 Cheryl from Tidy Mom shared a lovely ruffled scarf that she created from once a useless neon orange t-shirt.
A No Sew Bag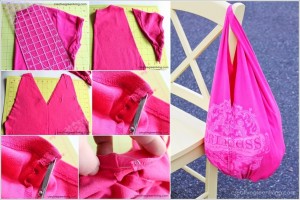 Not good at sewing? Well you don't have to be, not at least for this wonderful bag that Creative Green Living has shared and it is made from an old t-shirt.
Wonderful Giant Flowers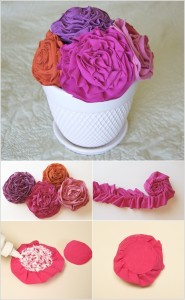 Katie at Matsutake Blog created these wonderful flowers to be displayed in a vase from some recycled t-shirts. Now forget crepe paper flowers, t-shirt is the new crepe paper.
Multicolor Pot Holders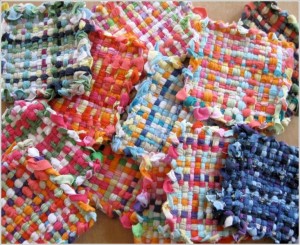 Rose Beerhorst via flickr shared her lovely pot holders in multicolor that she has created by weaving t-shirts. How clever is that!
Pretty Shoe Embellishments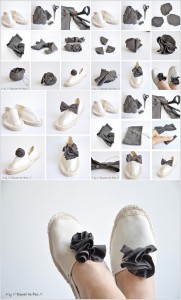 Pascale at Between the Lines shows us a wonderful way to spice up our shoes with simple embellishments like bows and flowers made with an old t-shirt.
Braided Belts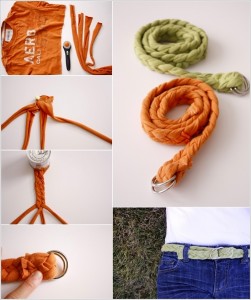 Delia turned her boring t-shirts into some really trendy braided belts. That's cool!