Bubble Bath Containers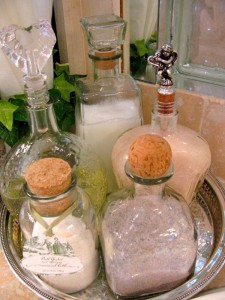 Rita May at May Days has got a wonderful idea where she has stored her bubble bath in empty tequila bottles. You can even use these bottles to store liquid soap and other bath products inside your bathroom.
Tequila Pendant Lamps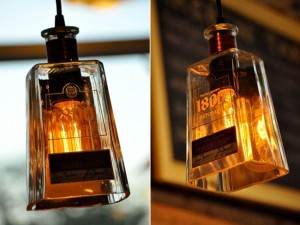 Image via: Custom Made
A Distressed Decorated Bottle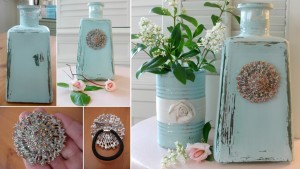 Shannon at Fox Hollow Cottage painted an empty tequila bottle with aqua color and distressed it with steel wool. Then she re-thinked a hairclip and used its brooch part and glued it to the bottle. The result is in front of you.
An Amazing Gem Decorated Bottle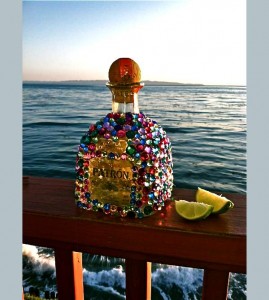 Image via: The Wasted White Girl
A Burlap Covered Vase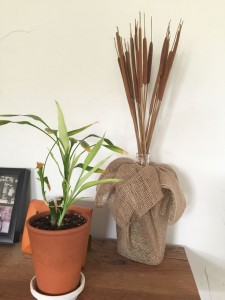 Nelly Drogin at Pinterest has shared another great and easy-peasy way to upcycle an old tequila bottle. Simply wrap it in a piece of burlap cloth and see what a wonderful vase like this will come into existence.
A Succulent Planter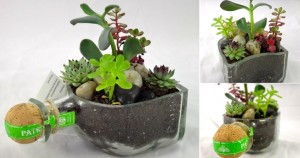 James Rosano at Hatch has a wonderful idea for all of those who have a green thumb and would love to have one or more plants around them inside their home too. Simply fill a cut tequila bottle with silt, add a few pebbles and plant a succulent.
A Snow Globe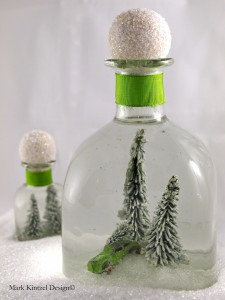 Image via: Mark Kintzel Design
A Hummingbird Feeder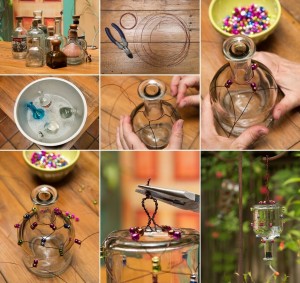 Michelle Reynolds at DIY Network Blog with the use of some metal wire along with multicolored beads created a cute and wonderful hummingbird feeder from a tequila bottle.
A Cool Spice Storage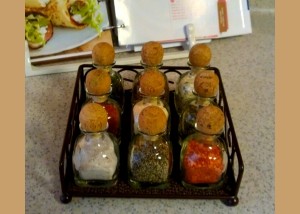 Shirley Gomez via Pinterest combined spice filled tequila bottles with a napkin holder and created a wonderfully practical spice rack.
Fun Condiments Bowls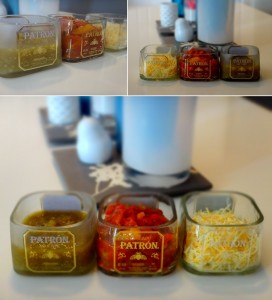 Etsy Shop Rehabulous has shared a great way to utilize old tequila bottles and turned them to condiment bowls after cutting them.
A Tequila Bottle Terrarium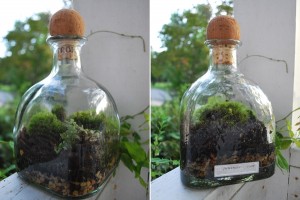 Image via: Brad Sims at Flickr
A Lace and Burlap Flower Vase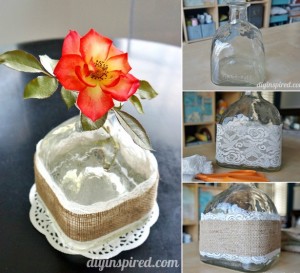 Dinah Wulf at DIY Inspired wrapped a tequila bottle in lace and burlap and turned it into a pretty flower vase.
A Wind Chime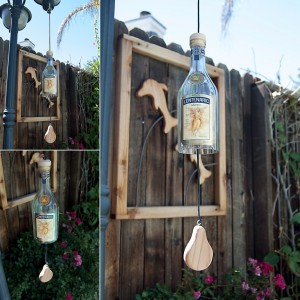 Shaky Jay Creations at Etsy has crafted a spectacular wind chime from a tequila bottle. Wind chimes are a great way to instantly decorate a space and if it is recycled it can save you a few bucks too.