Colorful Stenciled Coasters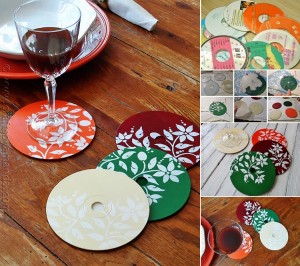 Amanda Formaro at Crafts by Amanda created these wonderful stenciled coasters from CDs with paint and a stencil. This is so easy-peasy, isn't it?
A Wall Organizer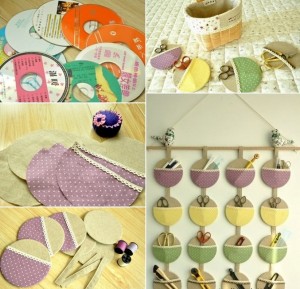 Moy Handmade has shared a project of making a wall organizer from old CDs and fabric and looks absolutely a lovely creation to give a whirl to.
An Outdoor Hanging Decor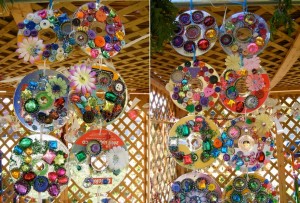 Ellen Gradman via flickr shared a project where CDs are decorated with jewels and buttons and then turned into an outdoor hanging decor. How creative is that!
Cute CD Lions for Kiddos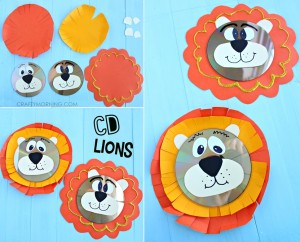 Michelle from Crafty Morning has created these super cute lions with colored card stock and old CDs.
Crochet Mandala CDs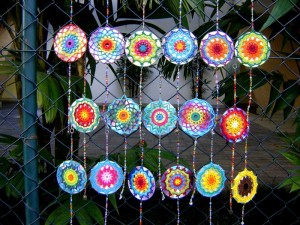 Cristina Vasconcellos via Flickr shared a project where crochet mandalas over recycled CDs are made. Looking cool, aren't they?
A Collar Makeover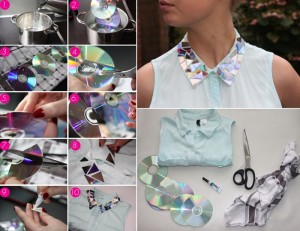 Marlou Volkerink from Follow Fashion has given a makeover to her shirt's collars with an old CD. Seriously, who thought a CD can embellish clothes too? Incredible!
A Glass Marble Candle Holder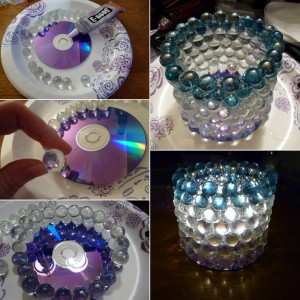 Danielle Peltoma at Lake County Today has a wonderful tutorial of making a candle holder using glass marbles and an old CD as a base.
A Table Clock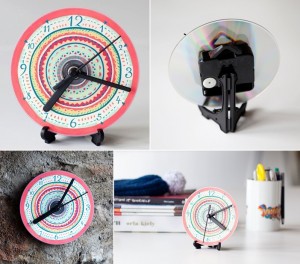 Emma Randall Illustration via Etsy has got such a cute table clock with a cool pattern on its face crafted from a CD. It is available for $15.84.
A Mosaic Planter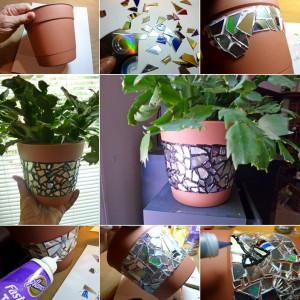 Make It Easy Crafts Blog shows us how to spice up a simple terracotta planter into an artistic mosaic planter with a CD and some black fabric paint.
A Sparkly Clutch Makeover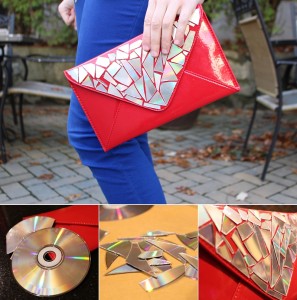 Emily Geraghty from That Cheap Bitch pimped a simple clutch into a sparkling one with an old CD. Wow, that's worth trying.
An iPhone Dock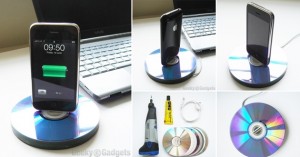 Julian Horsey at Geeky Gadgets shared her ingenious creation where she has created an iPhone dock using old CDs.
A Sun Catcher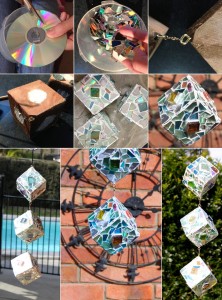 A Creative Mother at Stay at Home Life crafted this wonderful sun catcher with wooden blocks and CD mosaics.
A Garden Border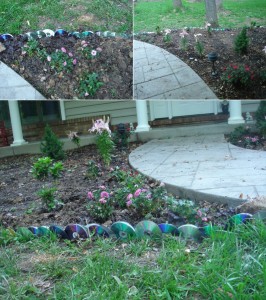 edamommy via Instructables has created a landscape border using the collection of her old CDs and now her garden has an edging that shines in rainbow colors during the day when the garden gets soaked in the sunlight.