A Rope Covered Tire Planter with Tripod Legs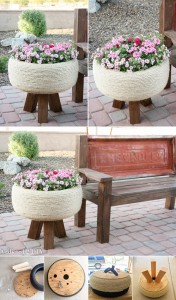 Katie at Addicted 2 DIY created this wonderful planter from an old tire. You might have seen many kinds of tire planters but there is something so special about this beauty. It has got rope coiled around the tire along with wooden tripod legs. Isn't this so creative and original?
A Cute Snowman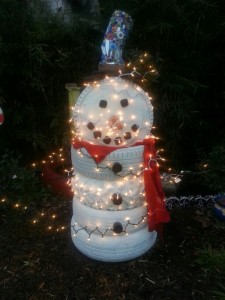 Bronx Zoo via Pinterest shared a snowman that is created from old tires painted white. This snowman is added festivity of holiday season with fairy lights and a red scarf. You can also make a snowman like this one that would never melt.
Stylish Rope Ottomans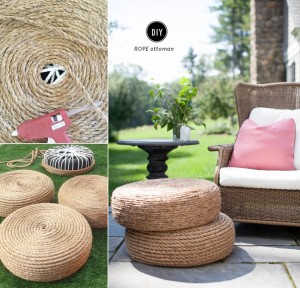 Jess Blazejewski at Style Me Pretty shared a wonderful idea to create ottomans for your home's indoor or outdoor area by simply wrapping rope around tires. These ottomans can become extra seating in a heartbeat and when seating is not required, simply stack and use them as a table.
Bike Tire Shelves

Etsy Shop BMP Products has re-thinked old bike tires into these cool shelves that you can use to store your kids' small toys or you can also display trinkets in these shelves in your living room.
A Tire Swing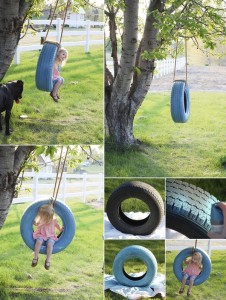 Kristen Whitby at Ella Claire painted a tire blue, added rope to it and it became a fun swing that makes kids happy.
A Coffee Table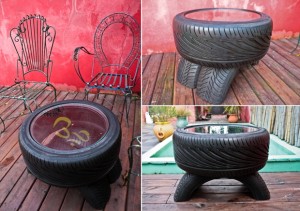 Image via: Coroflot
A Tire Mirror Frame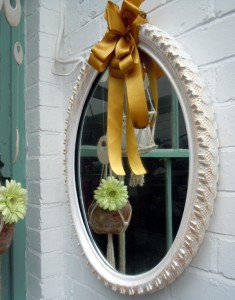 Image via: Re-Creations Project
A Dog Bed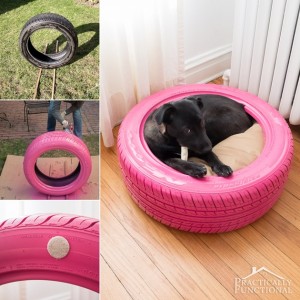 Jessi at Practically Functional painted a tire pink, added cushion to it and it was ready to be used by her puppy as a comfy and cozy bed.
A Woven Recycled Tire Chair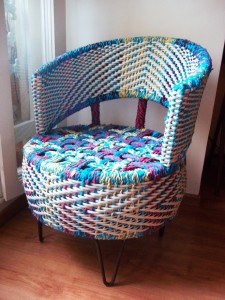 Image via: "Say, Did You See?"
A Tea Cup Planter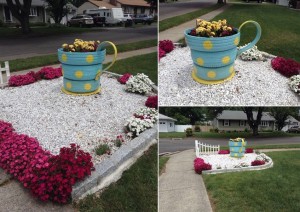 Luz at Hometalk created this teacup planter with the help of her husband. She painted three tires in turquoise color and added dandy yellow polka dots. After that she stacked them, added a handle and a tea cup was formed. Once the teacup was formed she filled it with soil and planted flowers. You can also give a shot to this project and re-create this teacup planter that you will be happy to add to your garden.